Let the Party Begin.
Here are three simple steps you can follow on how to host a YouTube Party using huddle.live with your friends while social distancing.
1. Open a YouTube video
Go to www.youtube.com and choose the video you want to watch with your friends. Keep in mind that only one shared video is allowed at a time in your huddle party. When you find another YouTube video you want to share to keep your watch party going longer, you'll need to copy and paste in the URL after the first video has finished playing on Huddle.
2. Click on the YouTube Party icon and start playing a video
When you're ready to start your watch party, go back to your room meeting. Click on the YouTube Party button, paste the URL link, then press Share and you're all set. Click <insert play icon here> to "Start Watching".
If you want to add more videos, you can browse popular videos or search for a specific theme using the search bar <insert icon> in the bottom left corner (i.e. type Imagine Dragons videos). Searching will not disrupt your current hosting party as a new tab will open with your results.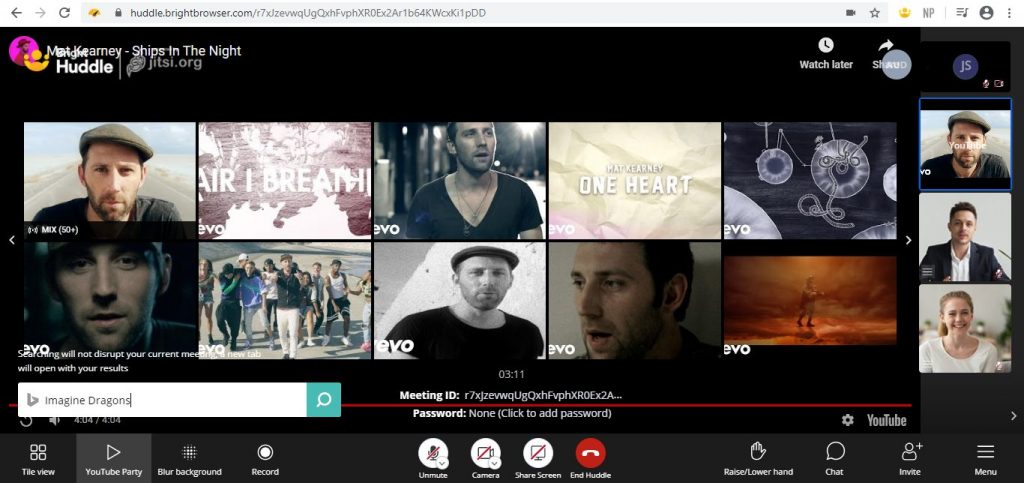 3. Use the Chat Box button
Enjoy chatting with your friends by clicking on the Chat box at the bottom of the screen to open it while watching the video. If you want to remove the video you're viewing, click YouTube Party. To confirm, click Remove. Repeat Step 1 and 2 to start a new party. It's that easy!
Watch this quick tutorial on how to set up a YouTube Party using huddle.live